God is Our Mighty Fortress
Read: 1 Samuel 17; Psalm 9; Matthew 2

"The Lord is a stronghold for the oppressed,
a stronghold in times of trouble"
Psalm 9:9, ESV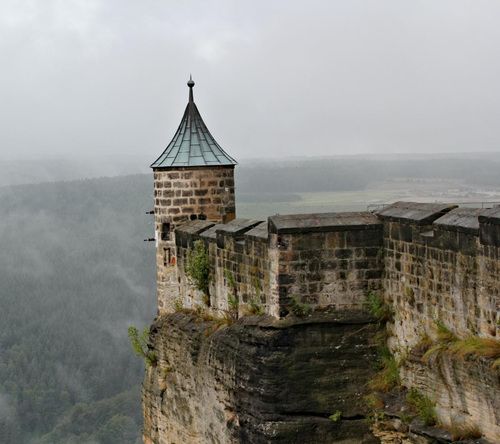 The psalmist declares that the cries of the oppressed grow louder by the day, and the Lord hears them. Our psalm today provides us with an individual lament in which the writer combines prayer with praise to give voice to God's just rule over the nations (EBC). He cries out to God in his need because he knows that God hears his cry and answers him.

How can this be so when there are many calls currently echoing throughout our nation and world? We hear the wails of discarded unaccompanied migrant children being dropped over our southern U.S. border wall, young girls who have been kidnapped and abused by Boko Haram in northern Nigeria, as well as reports of Christians in China who are being tortured and brainwashed.

We also know that many in our generation reject, what I will term, a "pie in the sky, bye and bye" theology, the hope that God will one day judge the world in righteousness and justice. I, however, believe that we may actually base our future hope on a foundation of God's present justice in our world. The psalm provides God's "needy" children with a sense of confidence that he rules justly (cf. vv. 4, 7-9, 16, 19-20). Let's examine today why the psalmist believes that God is just and a stronghold for the oppressed in times of trouble (Psalm 9:9).
Let's See What the Bible Says
There is a powerful beauty in the praise of God's people in desperate circumstances. There are many paths to rescuing the helpless, but we will see in our focal passage that hope in God's rule is an important element in their deliverance. It also is evident that the psalmist views praise as an antidote to fear (9:1, 2, 11, 14). It is here that we will devote our attention in today's devotional (9:7-10, 18-20).

The psalm begins with thanksgiving to God because the psalmist has been rescued from his enemies (9:1-4). He continues by affirming God for destroying the wicked because he is the righteous and just king of the world (9:5-8). The writer speaks of God's protective care of those who trust him and thanks him for it and prays for the Lord to rescue him from death (9:9-12 and 13-14). He concludes by denouncing the wicked and praying for God to condemn them (9:15-20; Handbook).

The psalmist knows that praise is a vital link between the God of Israel's covenant and the circumstances of life. He sincerely believes that the Lord executes judgment on the wicked (9:3-6, 15-17). Despite the tragedies that surround him there is a note of praise throughout the lament (9:1, 2, 11, and 14). The psalm contains wonderful characteristics of God that we may use in our praise: Judge (v. 4, 7-8), King (9:7), Justice (v. 8, 16), Avenger (v. 12), Mercy (v. 13), and Deliverer/Savior (v. 14; HCBC). This adoration of the Lord provides us today with an example of how to sustain hope in times of overwhelming heartache. Offering one's heartaches to God soon turns to praise and fear is turned to victorious joy (EBC). How can this be?

First, the psalmist shows us that the basis for such optimism in the face of one's circumstances is the belief that God rules. This has been made possible because the wicked will only enjoy temporary reign, but God is eternal. He "sits" on his throne in the sense that he dwells, abides, and remains there. In short, he is not going away because the Lord abides forever. In contrast to the workers of evil, God has granted the psalmist the eyes of faith to see evidence of God's kingdom all around him. Belief in God's reign also gives hope because of the Scriptural teaching that he will establish righteousness on earth (9:8). There is great confidence that God's rule is beneficial to the godly—those who "know" the Lord (9:10).

Secondly, the means of God's protection for those who trust him is stated in the psalm. The Lord is a "stronghold," which means a secure height or a high wall or fortress (9:9; Handbook). The meaning may best be understood as stating that God protects those who are oppressed. These are the people who are powerless. They are crushed, exploited, discriminated against, and their literal only hope is in the Lord. Where else are they going to turn, since society has too often turned its back on them?

Unlike society and culture that so often politicize the oppressed, on the one hand, or forget them on the other hand, God remembers their names! He has blotted out, however, the names of the wicked (9:5, 10). This means that the oppressed, whose trust is in God, have a personal relationship with him. They actively seek God, meaning that they look for him in their circumstances. God is not lost because he is evident in their worship of him, and in service given unto him.
The Old Testament word for "oppressed" (see 9:9) means to be crushed. The idea is that one is physically and/or emotionally beaten and/or crushed. Let me share two current examples of the concept. Like many of you, I listen to the radio on my commute to the office. I typically tune in to a station that gives frequent traffic reports because, you know, traffic delays are frequent in the Dallas-Fort Worth area! A news report today featured our state governor who called for the closure of a facility that is housing unaccompanied migrant children. Allegations of sexual abuse, COVID-related concerns, children not eating, and insufficient staffing were among the moral concerns that he addressed in the news conference. If the allegations are indeed accurate, we may wonder where God may be in all of this evil and oppression. Some of you may even be living in a similar nightmare of domestic abuse or sexual harassment on the job. You, too, are crying out to God wondering when your oppression will end and you will see his justice prevail! First, I urge you to contact the hotline numbers that I have listed below. You do not need to live in a climate of abuse. The psalmist understands both the personal and corporate agony of oppression and offers us some consolation.

Let's consider how we may grow spiritually. Psalm 9 shows us how we may move from doubt and fear to confidence and joy. God remains the same, but we are to change and grow in our relationship to the Lord. First, the ground for present and future hope is the belief that God rules. There are very real daily threats to our lives, but the Lord reigns and his throne of judgment remains established (v. 7). Secondly, we may not always see the Lord clearly, but the truth is that he is surely present (2 Corinthians 5:7). Thirdly, the separation between right and wrong is evident in God's reign when the world seems to be engulfed in evil. Movies today often blur the boundaries between good and evil and right and wrong in superhero characters. In contrast, it is of critical significance to anchor our hope in a good and right God when we are buffeted by so much moral discordance. Finally, earthly kingdoms will all end, but God will reign forever (v. 8). We must sustain this confidence. There is present and future hope precisely because God reigns, and there also is security in his "stronghold" (v. 9). God does not, and will not, ever forsake those who rely upon him (v. 10). Find hope in God's present and future justice.

Once again, I plead with you to contact the hotline numbers listed at the bottom of the page if you are suffering from domestic or sexual abuse. God will surely use these means to provide you with justice.
1. One may hardly live any extended period of time on this planet without encountering some type of oppression. You very likely will call to mind a specific event(s) where you cried out to God for aid. You may be doing so at this very moment. Use the character traits of God listed above to form words of praise. Ask God to open your eyes to the ways that he is ruling the world justly despite the evil all around.

2. For families: As we all understand, children comprehend the world around them developmentally, by degree, as they mature. Small children cannot yet understand why bad things happen (often we parents do not understand either). However, children can sense unrest in their world, and feel the tension or anxiety of the adults around them. They often have fears (monsters under the bed, being abandoned, etc.). When your children are afraid at bedtime, this is a good time to remind them that God is awake and keeping watch over them. He never sleeps. Sing over your children in these moments, praising God for his character. Softly whisper all of the ways that God cares for us. God will always do so. We can trust our good God to be consistent in his care and justice—yesterday, today, and forever.

May all your paths be straight,
Larry C. Ashlock
Domestic abuse hotline: 1-800-799-SAFE (7233). Click
here
to access the website.
Texas Abuse Hotline: 1-800-252-5400
Call the Texas Abuse Hotline when the situation is urgent. Urgent means someone faces an immediate risk of abuse or neglect that could result in death or serious harm. Call the Texas Abuse Hotline at 1-800-252-5400 for situations including but not limited to:
Serious injuries
Any injury to a child 5 years or younger
Immediate need for medical treatment (including suicidal thoughts)
Sexual abuse where the abuser has or will have access to the victim within the next 24 hours
Children age five and under are alone or are likely to be left alone within the next 24 hours
Anytime you believe your situation requires action in less than 24 hours