Faith that Guards against Fear
Read: 2 Samuel 18; Psalm 56; Matthew 27

"When I am afraid,
I put my trust in you.
In God, whose word I praise,
in God I trust; I shall not be afraid.
What can flesh do to me?"
Psalm 56:3-4, ESV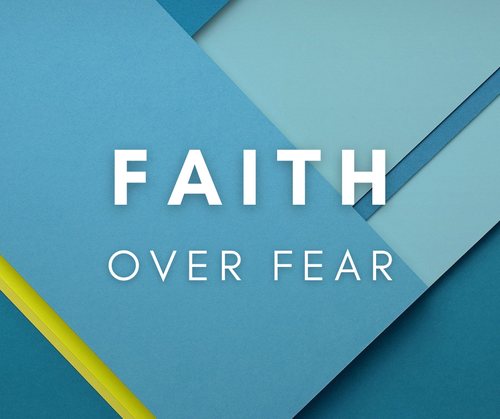 "Somebody help the boy!" This was the verbal cry of a young child when he had made a climb and then found that his feet were too short to reach the ground. He was in danger of falling! He was expressing his fear at the loss of safety in the form of a lament. Scholars identify Psalm 56 as an individual lament (Tyn; EBC; Handbook).

This type of psalm often contains a unique feature defined as "imprecation." It really should not surprise us that the psalmist invokes a curse on his enemies because the psalms use of a wide range of emotions. However, imprecations cause most Christians some discomfort, even though they are found in most, if not all, laments (Tyn). Nevertheless, the use of such strong emotion in this and other psalms teaches us how to express our honest feelings to God when we pray.
Let's See What the Bible Says
The title that heads the song indicates that the message is about the troubles that David faced in the Philistine city of Gath when he fled from Saul who was seeking to kill him (cf. 1 Samuel 21:10-15 or 27:1-28:2). Truly, this psalm reminds us that we do not live our lives in a bubble and very often really bad things happen to very good people. This type of situation was David's plight. Let's provide a context for the evil that surrounded the psalmist.

Gath was one of five major Philistine cities. David was worn down from Saul's pursuit, which led him to seek some refuge from his enemies. That must have been some moment of desperation for him to place his life in jeopardy even while he was trying to save it. Have you ever found yourself needing the assistance of non-believers at school or unsavory individuals in business dealings or even wicked neighbors where you live? Any of these circumstances may help you to identify with David's condition and emotions.

This psalm describes a perfect storm. It begins with an initial call for help and ends with two avowals of trust in God. Our focus will be placed on the center of the hymn and David's call for deliverance from the enemy (56:3-4; cf. also 56:10-11; cf. HCBC). Sometimes we find ourselves in trials so severe that we utter words like, "Can this really be happening to me?!" In hindsight, David's situation proves that in some cases this may not be such a bad thing! Let me explain.

First, David shows great inner composure and calm in the face of great fear, despite all that is going wrong around him. We see how he responds under the severe stress he faces. His circumstances beg the question of whether he should doubt God's provision in the situation. He answers, "Absolutely not!" Obviously, his life was on the line, but the response is amazing to me. Most of us would be concerned about our safety, but he answers with something like, "God has this covered too." Difficult as life can be, he has learned to trust God fully (v. 3). He neither feels his fear, nor does he fix his gaze on his problems (EBC). He looks instead to his redeemer who will deliver him.

Secondly, he grounds this hope in the eternal nature of God when compared to humankind which is merely mortal flesh (v. 4). The secret to David's ability to do this resided in his decision to lay fear aside in order to "praise the promises of the Lord." He uses the twin strengths, as it were, of prior trust in the Lord that is buttressed by His word. We need to see the use of the Hebrew term "word" (dabar). It is one of eight key terms that denote God's revelation. God and His word provide this fleeing man of faith the inner strength not to fear. David, in a sense, is writing psalms while his enemies are plotting his demise!

Thirdly, David shows us that everything that proceeds from God's mouth is to be praised. God's word should be praised because it contains the power to create (cf. Psalm 33:6, 9), which in this case was a means of escape from his enemies. God's word also guides David through this dark trial (Psalm 119: 105) and sustained him in his desperate need (Psalm 119:114). The secret to David not wilting under the intense heat of his circumstances is found in both the shield that is the Lord and in His word. He simply relies on the Lord and God's word provides him with the instruction manual for so doing. Let's seek to apply the passage to our lives.
There were some rather intimidating bullies in my public school. I am not talking about social media intimidation, which is quite serious and a very real and troubling form of bullying today. Our children need to be protected from it. In this case, I am talking about threats followed by physical aggression that caused me to fear for my physical life. I also experienced inner dissonance because, as a Christian, I sought to honor the biblical principle of loving my enemies (Matthew 5:43-48). I confess that I, at times, prayed that the bullies would be eliminated! Oddly, I found myself protected by a group of non-Christian school mates who identified themselves as the "Kickers." They dressed in Western attire and were not hesitant at all to use acts of violence to respond to attacks on one of their group members. Looking back, I see how God provided me with his hand of protection in a most unlikely manner. That cauldron of daily trials helped to forge my faith at an early age.

Here is a thought for our spiritual growth. The point is that evil surrounds, and seems to overwhelm even God's anointed ones. David had been anointed as king, but he found himself a marked man. Jesus, the Messiah, was deserted by the crowds and even His own disciples in the great hour of His need! However, both David and our Lord modeled deep trust in God's ability to preserve them. We all will encounter difficulties along the path of devotion to the Lord! The psalmist states that, despite the presence of anguish and fear, his gaze was not on the problems at hand, but on the Redeemer who would deliver him (vv. 3-4).
1. Write down your biggest fears currently in your life. Outline the steps that you will take to trust God in your circumstances.

2. For families: The two verses that crown this devotional are wonderful for children to memorize. This might be a good day to help your children commit them to memory, complete with the reference. Smaller children can memorize verse 3: "When I am afraid, I put my trust in you" (Psalm 56:3). Older children and teens can learn the entire two verses: "When I am afraid, I put my trust in you. In God, whose word I praise, in God I trust; I shall not be afraid. What can flesh do to me?" (Psalm 56:3-4).

Encourage your children to learn the verses by singing the words to their own song or rap, to act out the text using a situation at school, or to draw a picture of enemies surrounding them and God's shelter and protection over them. The children will make this verse their own, and speak it back to God when needed, just like David did.

May all your paths be straight,
Larry C. Ashlock